Who is Cradle Duende and why did they cross the Northern Continent by train and bike?



Cradle Duende is one of San Francisco's premier gypsy bands mixing Flamenco and Klezmer with Latin Cumbia and vocals to coin the term "Klezmenco-Hop". After a year of playing the local San Francisco scenes best night clubs such as Yoshi's SF, Cradle Duende set off across the country to raise awareness on sustainability through spreading conscious lyrics and music from the west to east coast. This is the story and summary of the trip from San Francisco, California to New York City, New York by bike and train.
Written in first person by Justin Ancheta (www.justinancheta.com), of Cradle Duende
"After many thoughts and talks on how our culture is unsustainable in it's practices of transportation, we decided to head across the country on train with our bicycles to see if we can get around by an alternative mode of transportation. We made it easier by being just two people, Morgan & Justin, of Cradle Duende, the band. We made it harder by bringing our own mics, stands, PA system, and all the gear needed to be self sufficient for camping and doing our own show. Everything was utilized on the tour. We also learned some good lessons along the way.
We started with a bike ride down the Sacramento River in Sacramento, California, to set off on Cradle Duende's first tour to promote alternative transportation. Once we got to the train station they were kind enough to lend us used bike boxes, instead of paying $10 each for a new one (we still paid the $5 service fee). We found out that because of the holidays the trip was so full that buying out ticket last minute made us have to pay an extra $60 each due to the crowded train to Reno. It wasn't too much more, being that we were paying $389 for an 8 trip, 15 day pass on Amtrak. We set off for Denver Colorado on a 32 hour train ride through the Sierra Mountains, the Nevada Desert, and the Colorado Rockies. Some of the most memorable moments of this first train ride were the epic views by the river weaving through the mountains. We also played two shows on the viewing cart, which one was a tunnel show where we went through a tunnel for 15 minutes and played in the dark with the LED lit guitar (thanks to www.rockthebike.com).
There were 3 days in Denver, Colorado exploring the rivers and city landscape between the two shows booked: one at the Mercury Café, and one at the Jewish Alliance Community Center. The rivers and culture by the river that we saw on a hot day inspired me to fall in love with Denver and how portions of the city have embraced nature and community (See picture 1).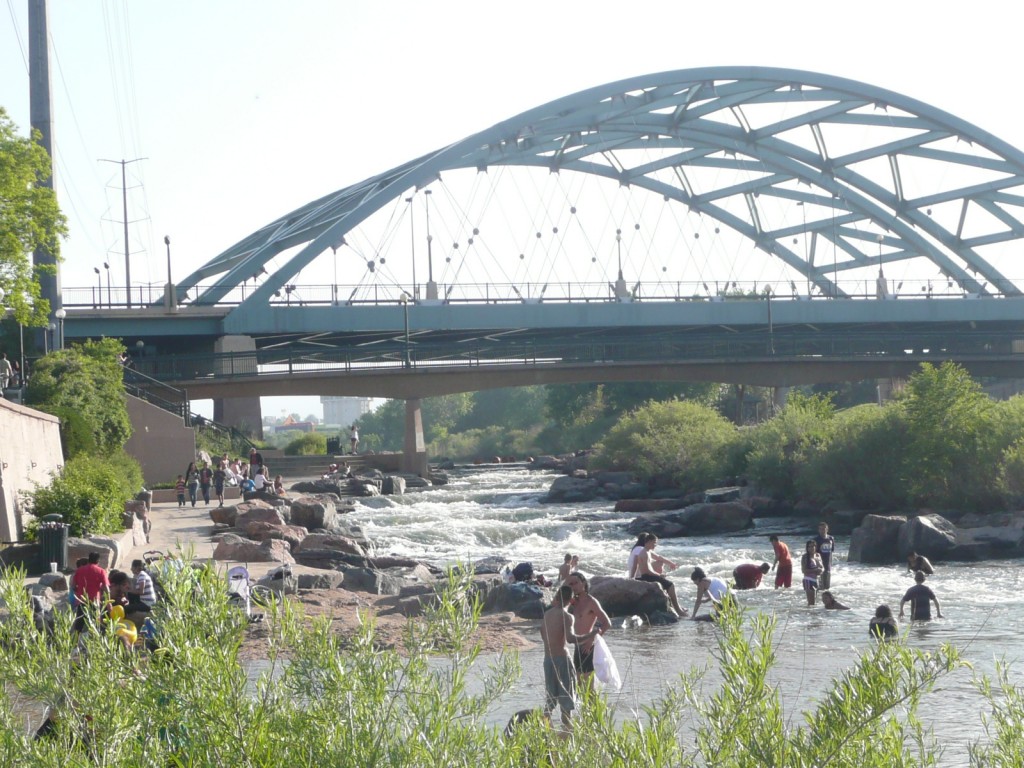 The shows went great, offering a chance to cross cultural boundaries by doing songs in Hebrew, as well as some traditional Jewish tunes with our originals. We offered bike blended smoothies which we also brought with us on the trip, packing on our Yuba Mundo 500 (www.rockthebike.com) (see pic 3).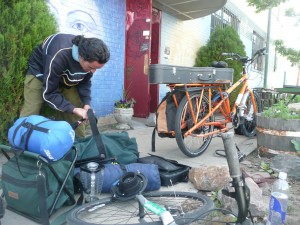 After the last show, due to time constraints and booking the tour this way, I had to disassemble a Yuba Mundo bicycle in 15 minutes to catch the train, the fastest and most efficient packing without power tools. I prepped some screws by taking out half of the support and kept the other half in for stability. I think this cut my time in half. In the future, a power tool would make this a 15 minute process without rushing. We ended up catching the train and we were off to Chicago, Illinois for a 5 hour lay-over, then Albany, NY. The train from Denver to Chicago took 20 hours and the train from Chicago to New York was about the same due to having to stop for freight trains. Our total trip was close to 70 hours of train time vs. 5 ½ hours in an airplane. The difference is almost double the price to take the train vs. flying. Also, if you are to take these overnight train trips, and have the extra cash, the sleeper car is probably the way to go which includes meals on the train. Unfortunately our budget was economy class and we found different ways of sleeping under the seats on the floor, sideways, and other creative and uncomfortable positions.
The East Coast
Arriving in Albany, NY in the beautiful spring green colors that can knock your socks off, we found that our bikes were left in Chicago by Amtrak. This allowed us to meet the managers of the Albany Amtrak station and discuss prices and what happens when customer's luggage is forgotten or lost. They were obliged to bring us to our destination by taxi, 20 minutes from the station. The next day when the bikes still weren't there, they took us to our next destination of Rutland, Vermont, also by taxi. It was disappointing not to ride the route we selected from the Albany train station, but we were glad to keep to our schedule even though our bike luggage was missing for over 24 hours. They dropped off the bikes in Rutland by train the following night.
In the process of losing our bikes on Amtrak, we found the inconsistencies of Amtrak policy, which is supposed to be a nation-wide service with the same rates and services. On the east coast (Vermont/New York), Bikes are unable to be packed or unpacked on any trains into Vermont by Amtrak, as well as no bike service to New York City. The bike box policy was stated to be $15 per box plus a $5 service fee, which is inconsistent with the rest of the country as well. Along the trip and heard the rumor that AAA Auto insurance has lobbied against Amtrak and other alternative transportation such as buses, and they seem to have won. In the past 10 years the service of bikes on trains (no extra luggage cart) and the bus system being dismantled, leaves no other options for people to get around other then paying for gas guzzling vehicles and paying for their auto insurance policies. As I cannot vouch for the validity of the AAA auto insurance lobbying claim, I do know that the investigation should be followed up, as well as a price check on how much more it would cost Amtrak to have a luggage cart. From my understanding adding one cart onto a row of trains using the same motor would not change the diesel gas efficiency enough to notice any difference, and they already have attendees at the stations to help with luggage and customer service. Our goal is to partner with an organization that is passionate about revitalizing the Amtrak so that people can once again use the service with Bicycles, and possibly open it up to allow motor bikes a service on and off trains for an extra fee. This would allow for higher rider-ship and allow Amtrak to compete with the high-speed road system that has taken over our transportation in the United States."
Cradle Duende Shows – Vermont, New Jersey, New York
The most accumulation of shows was on the east coast. We played everything from Synagogues and old folks homes, to Yoga Studios and Pedal Powered stages. One of the largest pedal powered systems to date was set up in Brooklyn for the "Natural Ass" show with 14 bikes creating the power. On Saturday, June 4th, Cradle Duende participated in the video shoot and testing of the system in a huge warehouse with natural lighting mixed with Rock The Bikes LED lights to show how much power is being generated by the bikers. We hope to share footage of this event soon.
Yoga Basin and Sonic Yoga Studio's with Twee Merrigan
Both in Asbury Park, New Jersey and New York City, New York, Cradled Duende toned it down for meditative ambient didgeridoo, guitar, percussion, and clarinet for a custom experience with astounding yoga teachers Twee Merrigan, as well as Lori assisting at Sonic Yoga. The creative process of these shows is meditation in music, in yoga, and in any moment thereof.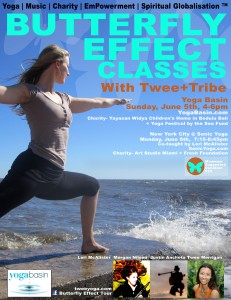 Mixing experimental yoga and music together to bring people to the moment of climactic inner ecstasy and peace, Twee, Justin, and Morgan brought their gifts together for a unique and personal experience using sound, movement, and touch. They have collaborated once before at the Hawaii Spirit Festival in 2010, and are scheduled to make the same movement forward at the Wanderlust Festival at Squaw Valley, California on July 28th weekend, 2011.
"Yoga is a similar practice to the message of our music" says Justin of Cradle Duende. "We try to embody a movement forward that Twee mentions as a re-evolution of the mind, body, and spirit". Cradle Duende hopes to keep sharing their cultural experiences so that people can celebrate together the gift of being alive and feeling abundant with little necessities and less consuming culture. "We have traveled across the country camping by rivers and practicing the idea that the land is truly ours to share and can if we all act as stewards of the land and respect our surroundings of the natural world". For more information, please visit www.cradleduende.org or www.soulgraffiti.info for the 2012 "A Call to Localize Tour" by bicycle and train from San Francisco to New York.
BEST AND WORST TRAVELLING MOMENTS:
BEST – The best part of traveling by bike is the slow pace to relax and enjoy the scenery while you move your body just enough to stay in shape and be fit. Some of the best moments in life are when you can enjoy without the distraction of thinking of what you are or aren't doing. This happens for both Justin and Morgan of Cradle Duende when they ride their bikes and play their music.
WORST – For some reason the final part of the bike touring trips I have gone on end with something small and extremely challenging. I can honestly say that the hardest part of the tour was getting back up the hill in San Francisco, CA where we live, carrying an electric hub motor that is needed for the San Francisco, Bicycle Music Festival 2011. The hub motors are used to create the power for the stage and will be featured once again for the 6th annual BMF, Saturday, June 18th staring in Golden Gate Park in the morning and moving through SF to the second location. More details at www.bicyclemusicfestival.com
That's it for now folks! If you want to get involved, please email booking@soulgraffiti.info. We are looking for future music-bike-touring people that want to make a difference.
Peace,
www.soulgraffiti.info
www.CraldeDuende.org
www.justinancheta.com