Hello All,
Wow. JAB has been flying. What a whirlwind of events. We just completed the most intense season of shows and Pedal Powered events to date, mainly in the season of April – May, 2018. Meanwhile, on the homefront, I have moved to the Sierra Foothills to raise a family with Maren Metke, my partner and co-creator in Honey Of The Heart. We just had our Baby JoonMiel on 6-12-18 and I've taken some time off from the busy life to soak up these special days. Actually, I'm writing this frantically so I can get back to soaking up some good family time with the little one. She is adorable! JAB is in DAD mode.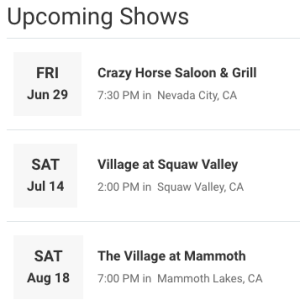 Shows shows shows – coming up! Please check out the calendar and come out to one of the shows this summer. We have a spread of shows that is looking quite solid for the summer and maintaining a solid home life as we settle into the Sierra's.
The pictures toward the bottom are of upcoming show posters, plus some travels of Soul Graffiti artists that have been able to take some gigs while I am with the family up in the hills. I am very grateful to the community of musicians that are supporting each other at Soul Graffiti Studios. Mad props to Alex Scammon for holding it down (The Big Fit & JAB), plus the many artists that are stepping up into production, teaching, and events rolls. A tribe is needed, and I feel it coming to fruition!
Here are some video highlights from the most recent gig at Maker Faire 2018:
And for you all that scrolled, Here is a special one for ya ; ) HERE!